Let's go hiking!
When: Saturday June 18, 1:00 PM
Where: The Painted Hills / Incandescent Rocks in the Virginia Mtns. on the way out to Pyramid Lake.
How Far: We'll hike from the bottom of the canyon ~ 2 miles up to the (likely dry) waterfall. We may go past the waterfall and walk back along the ridge overlooking the rocks.

Directions:
Take Pyramid Way (State Highway 445) north to Winnemucca Ranch Rd.
Go north on Winnemucca Ranch Rd. until the pavement ends on the way out to Moon Rocks (Google Maps link: intersection of Winnemucca Ranch Rd & Range Land Rd.).
We'll meet in the parking lot and drive out from there.
Directions from there to Incandescent Rocks:
Continue north on Winnemucca Ranch Rd. 4.4 miles and take a right turn just past the dry wash.
Go south-east 2.7 miles, past the end of the gliderport runway, to the gated entrance with the Incandescent Rocks sign.
Go up the road a little, there's a couple of turn-outs before it gets gnarly enough to need a little more ground clearance than my car has.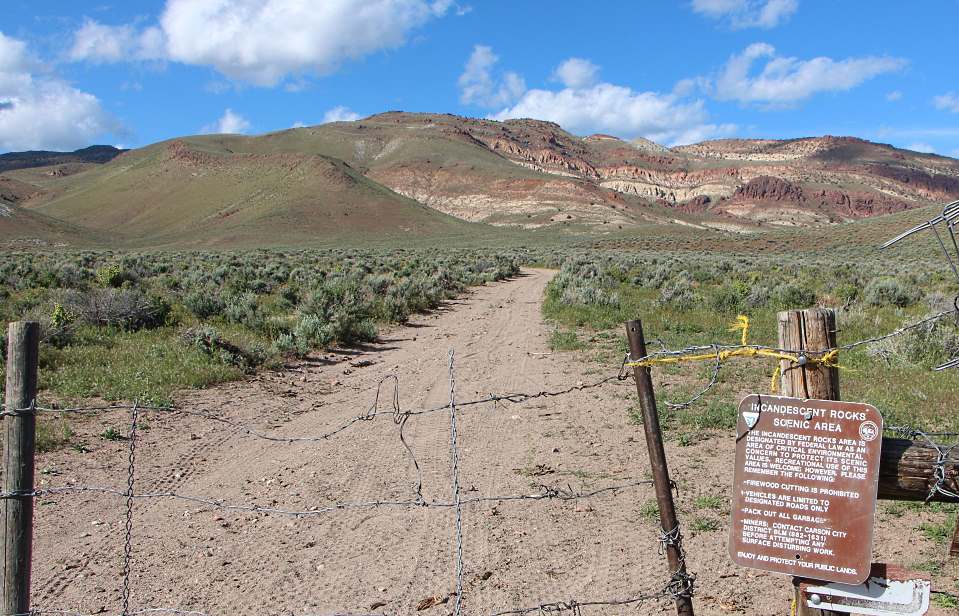 The last section of road probably isn't good for low ground clearance vehicles. Let me know if you need transportation, we'll plan something (maybe meet in the Moon Rocks parking lot).
This is the desert, with associated hazards. Bring the minimum of:
Watch out for:
vehicles / motorcycles
snakes
falling hazards if we go near rocks
More info:
The Painted Hills, Virginia Mtns